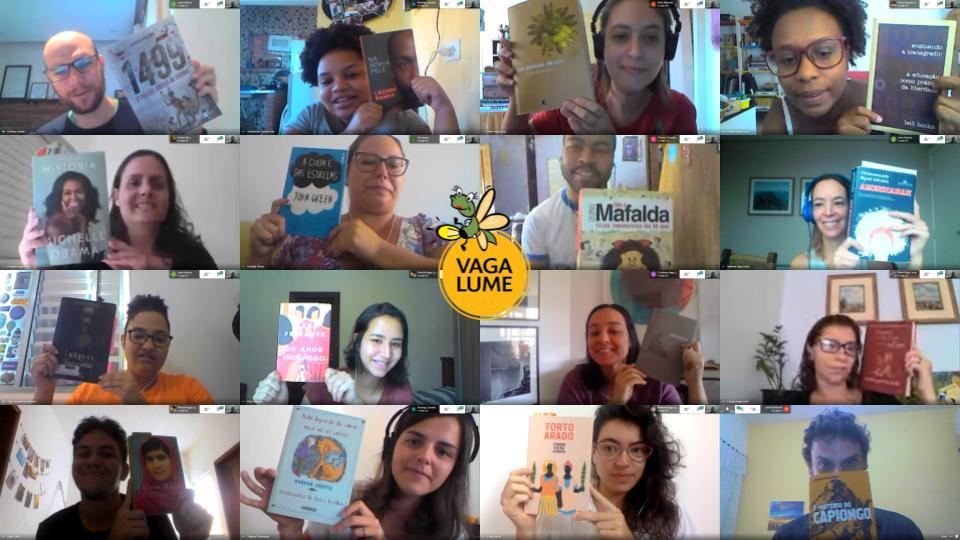 Vaga Lume is an organization that promotes literacy for children in the Amazon, impacting the lives of over twelve thousand children every year. One of the things we do in new situations, as is the case of the COVID-19 emergency, is to listen to the people we support to learn with them how our work could be relevant, what it is to be in quarantine in the Amazon and what kind of help is more useful. This is what we've learned:
Reliable information: with the many resources of information and fake news, Vaga Lume is a reliable source of information to spread to the communities we support about the dangers, the simple measures everyone can take to avoid being infected, and when to ask for help.
Reading during quarantine: our libraries are closed because of the pandemic, but reading shouldn't stop. The libraries are lending books to children. In some places, WhatsApp groups are more active now as a way to exchange ideas about reading and books.
Online meetings: the Internet is more available than we usually think in the Amazon. In 70 percent of the communities in which we work, we have some kind of Internet connection. Connecting our volunteers in
virtual meetings or conference calls has revealed to be very good to share information about good practices, to understand one another's needs, and to exchange ideas about the COVID-19 emergency.
Empathy: when the virus started spreading in Sao Paulo, where our main office is located, in the southeast of Brazil, we received many calls from the people in the Amazon who were worried and wanted to know how our team was doing. That shows that Vaga Lume´s Community is a valuable resource to
exchange ideas and find comfort in this difficult time.
Although we are still looking for answers, we are moving forward to find ways to organize activities with children that can be a joyful experience in this time of quarantine in the Amazon or in our own houses.
---
Organization: Vaga Lume
About: Vaga Lume Association operates in rural communities in the Legal Brazilian Amazon to create opportunities for cultural exchanges with the aim to promote the life in the Amazon region to the most industrialized areas of Brazil, expanding their perspectives of Brazilian reality and different cultural expressions, and creating awareness about environment preservation.
Country: Brazil
UNAOC Programme: Recipient of the Intercultural Innovation Award (2011)
Facebook: www.facebook.com/associacaovagalume
Instagram: @_vaga_lume_
---